Vihdoin sataa ja on luvattu kaipaamaani myrskyäkin, en malta odottaa.
Tänään vietän yksittäistä vapaapäivää, jonka jälkeen on viiden päivän työputki lähinnä ilta- ja yövuorossa. Blogia tekisi mieli päivitellä tiheämpään, mutta asujen kuvaaminen pienessä ylitäynnä olevassa huoneessa on lähes mahdotonta. Koska asun broidini asunnossa, täältä löytyy niin lentokonetta, kuin sählymailaa, telttavarusteita(!?!?) ja tämän lisäksi omat kamppeeni. Äsken siivosin hieman ja tein laatikosta arvokkaan löydön nimittäin läjän omia leffojani, kuten Requiem for a dream, From hell, Trainspotting, Interview with the vampire eli ei ihan laadutonta tavaraa. Liekö jäänyt tänne itseltäni viime kesänä tai vastaavasti nimeltä mainitsematon on lainannut ja jättänyt palauttamatta. (epäilen ensimmäistä vaihtoehtoa, sillä broidini leffamaku taitaa jäädä hömppäkomedian tasolle.)
Kuten olen aiemminkin maininnut olen tyllihameiden suurkuluttaja, joten pari viikkoa takaperin tuli ommeltua jälleen uusi hame, kun kauhuissani huomasin, että Lindexin hame on alkanut pahasti nukkaantumaan ylikäytön seurauksena.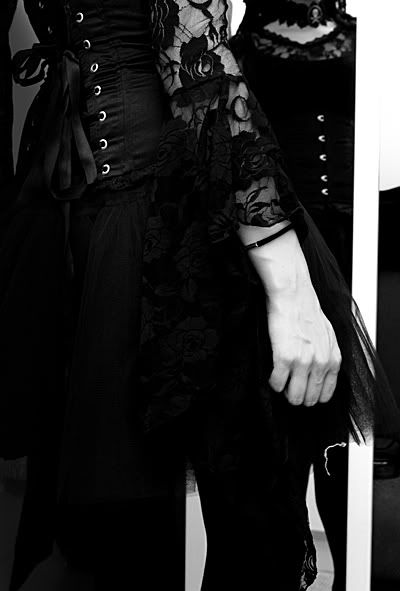 Asu maanantailta.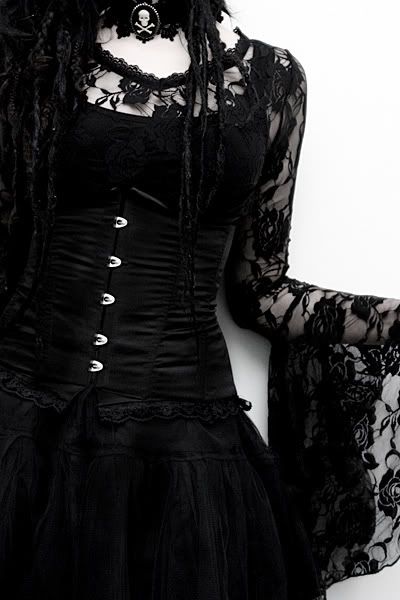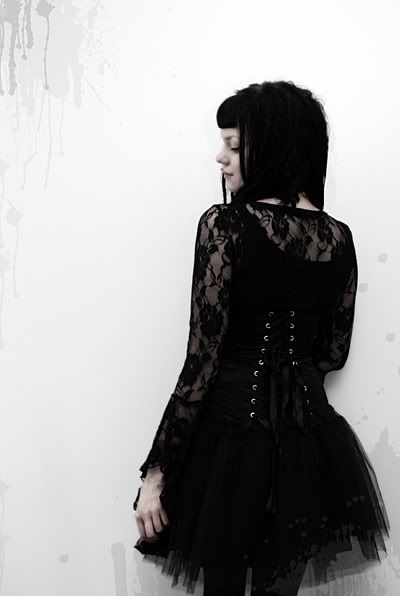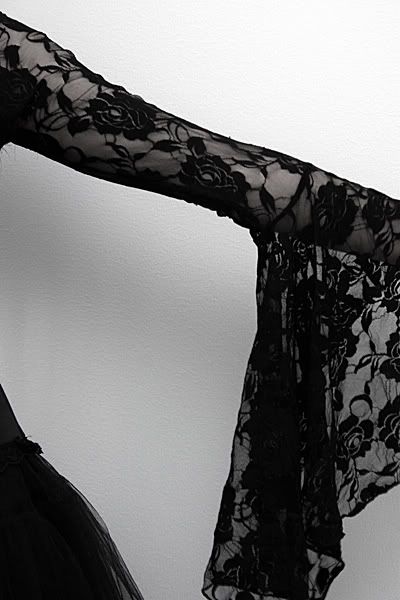 Sain myös aikaiseksi hankittua useamman metrin pvc:tä ja vyötärökorsetin osat ovat jo leikattuna ja ensimmäiset saumat ommeltuna. Tänään olisi tarkoitus jatkaa ompelun parissa, mutta myös kaupasta pitäisi käydä ostamassa useamman päivän ruoat. Eilen kävin ostamassa myös seuraavaan korsettiin materiaalin Eurokankaasta. Ompeluideoita pulpahteli eilen mieleeni muitakin, joita raapustelin ylös paperille.