Loput joulusta kuluivatkin diskovalojen välkkeessä, kiitos lukuisten sähkökatkosten. Musta joulu tarjosi vauhdikasta ja pimeää menoa myrskyn ytimessä, jonka seurauksena sähköt olivat kadoksissa yli vuorokauden. Onneksi meillä on mahdollisuus varasähkö lähteeseen, joten ihan kynttilän valossa kylmää ruokaa mättäessä ei tarvinnut aikaansa vietellä. Taidettiinkin olla kylän ainoa talo, jossa joulupäivänä paloivat valot muun kylän kyhjöttäessä loputtomassa pimeydessä.
Osa tavaroistani on yhä säilytyksessä porukoillani lyhyen vuokrasopimuksen ja rajallisen tilan vuoksi. Löysin näiden kamppeiden joukosta muun muassa tekemäni raitapaidan, joka pääsi osaksi päivänasua tänään. Viime viikolla tuli eksyttyä Turkuun tonttu tehtävien toimesta, joten samalla kävin pyörähtelemässä hieman keskustan vaateliikkeissä. Seppälästä löytyi uudet ihanat sukkahousut jo valmiiksi pursuavaan sukkalaatikkoon.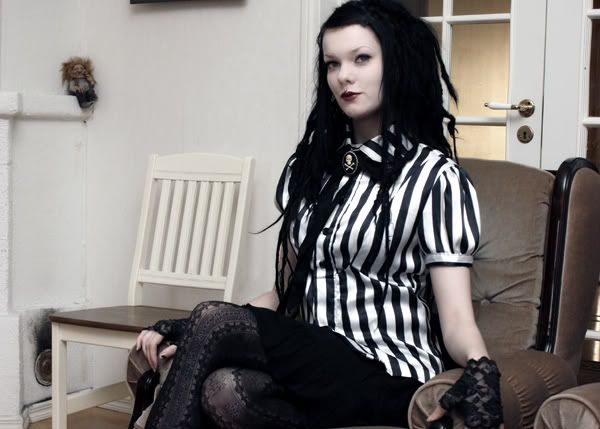 Shirt: Diy
Skirt: Seppälä
Tights: Seppälä
Gloves: Seppälä
Joululahjana sain uuden läppärin, sillä vanha sanoi vaihteeksi sopimuksensa irti matkalla idästä tänne länteen. Uuden tietolähteen lisäksi kirjahyllyni sai täytettä sarjakuva Nemin lisäksi jo kauan lukujonossa olleesta ylpeys ja ennakkoluulo ja zombit -teoksesta. Lahjapaketeista käärityi myös uusi tuoksu, suihkusaippuaa, kalentereita ja muutama uusi kahvimuki.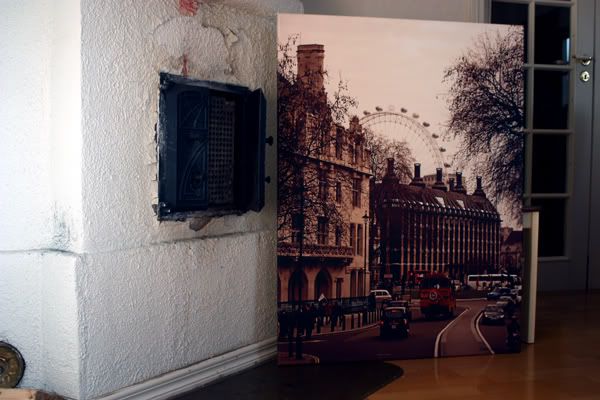 Valokuvastani teetetty taulu löysi tiensä tänä vuonna lahjapaperien kätköihin.

Porukoiden uusi vipeltäjä kisu, joka on raapinut käteni lukuisille arville, vaan ei haittaa. Tosi ystäväthän vannovat ystävyytensä verivaloin.
Translation

A huge storm reached us in Christmas day and a whole village fell into darkness. Electricity returned back yesterday but here is still some places without the supply of electricity. I think we were the only house in this village with the lights thanks for the backup power.

I got some nice presents from Santa among other things the new laptop because the old one broke up once again in the journey. In addition the gifts included a perfume, shower gels, coffee mugs, calendars, Nemi comic strip and the book which I have wanted to read for a long time: Pride and prejudice and zombies.