Whii. Käytiin tänään heti aamusta äänestämässä. Olen ollut ihmeen kiinnostunut vaaleista ja politiikasta viime ajat, lieneekö vanhuus tulossa. Toisin seurasin vaaleja kuusi vuotta takaperinkin. Mielestäni on vain vaihtelua, kun uutisissa puhutaan muistakin tapahtumista kuin "nainen raiskattiin bussissa" etc.
Koska ilma oli täydellinen kuvaamiselle, poikettiin hautausmaalle gootteilemaan ja aiheuttamaan hämmästystä työssään ahertaville haudankaivajille. Pakkaslukema oli suotuisa tänään, joka mahdollisti päällystakin riisumisen hautakiven koristeeksi.
Shirt: Second hand
Corset: Diy
Skirt: Diy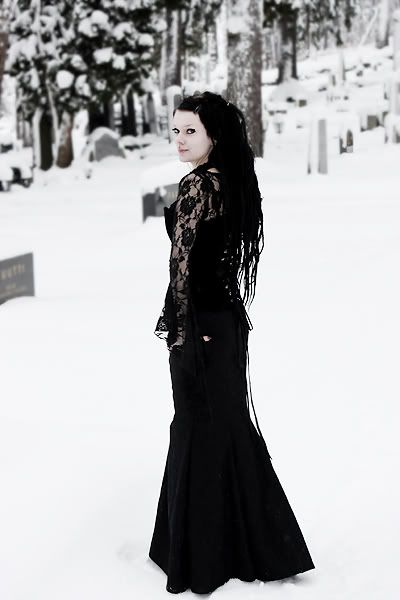 Tämän viime kesällä valmistamani pitkän hameen käyttö on jäänyt surullisen vähäiselle, vaikka pidänkin siitä paljon. Jotenkin sitä aina repäisee kaapista päälleen tutun ja turvallisen tyllihameen, vaikka talvikäyttöön tämä olisi paljon parempi vaihtoehto. Tänään kuitenkin päätin ulkoiluttaa itseni pitkissä helmoissa ja jospa hame eksyisi päälle huomennakin.
Translation:
I have been diligent which is unusual for me but definitely a positive thing! Today I woke up early and headed for voting. There is a presidential
election in Finland and I have been interested in them. After giving a vote we decided to go the nearest cemetary taking pictures. The weather was
favorable; the perfect winter.


Today I decided to put on the long skirt which I made last summer. I haven't worn it a lot which is a bit sad. Somehow it's easier to dress the traditional tulle skirt althought this one would be the better choice for the winter.