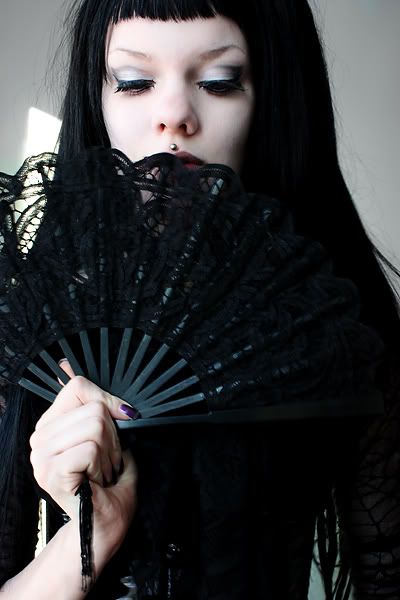 Viimeaikaiset ostokseni ovat keskittyneet pääosin asusteisiin. Vaatteita en muista ostaneeni aikoihin, jos jotain uutta on tullut hankittua on se tullut ommeltua omien käpälöiden kautta. Tällä hetkellä ompeluksissa on menossa kirkkaanpunainen villakangastakki, jollainen minun piti valmistaa jo vuosia takaperin, mutta saamattomuuden kirous on viivästyttänyt itse totetusvaihetta. Siivosin eilen hieman kaappeja ja löysin
viisi
talvitakkia, joista kahta en muistanut edes omistaneeni. Yksi lensi roskiin revittyäni ensiksi takista kaiken käyttöarvoisen tilpehöörin irti ja pari muuta ajattelin laittaa jossain välissä myyntiin.
Ja niihin tilin kadottaviin ostoksiin palatakseni ostin kauan kaipaamani viuhkan. Kuinka monet kerrat olen kironnut keikkapaikoilla huonoa ilmastointia ja miettinyt viuhkan hankkimista, mutta aina se on jäänyt. Nyt pukuhistorian kirjoja selatessani törmäsin monessa kuvassa viuhkaan ja päätin hankkia moisen kapistuksen itselleni. Tässä täytyy varmaan alkaa harjoittelemaan viuhkalla viestimisen taitoja. ;)
Toisesta hankinnasta mainitsin jo aiemmin. Henkkamaukan alennuksesta löytyi pieni pitsinen huivi, jota ei voinut jättää hyllyyn alhaisen hinnan vuoksi. Nykysin tulee osteltua aniharvoin mitään kyseisestä liikkestä, mutta menköön nyt tämän kerran.
Translation

I decided to buy a fan after cursing the bad air conditioning of venues too many times. The fan came to my mind while reading the fashion history. They were popular especially in 19th century after the french revolution. Should remember take it the next time when I go to watch some gig.

All of
my purchases
are concentrated in
accessories lately which is good thing.
The second
purchase is a cute lace scarf which I found in H&M last week. The price was so low I wasn't able to leave it into the store
.