Odotettu perjantai. Tällä viikolla työtunteja tuli säälittävän vähän, mutta se ei tarkoita että olisin varsinaisesti laakereilla maannut, paitsi tiistain, jolloin olin saikulla. Keskiviikkona oli viimeinen tentti, joka meni odotettua paremmin, ottaen huomioon, että olin käytännössä valvonut kolme vuorokautta putkeen. Ei ole juurikaan muistikuvia mitä kirjoitin esseeseen, mutta väliäkös tuolla! Keskiviikko oli muutenkin mielentilaani nostattava päivä, eikä edes apteekissa saatu paniikkikohtaus saanut minua piiloutumaan maailmalta. Olen etsinyt uutta asuntoa muutaman kuukauden ajan, sillä tämän hetkisessä osoitteessa asuinoikeus päättyy kuun viimeisenä päivänä. Viime viikolla sainkin kirjeen vapaasta soluhuoneesta, mutta asunnossa oli tiettyjä varjopuolia, kuten että huoneessa ei olisi ollut huonekaluja. Omat mööbelini kun ovat tällä hetkellä pinossa porukoillani toisella puolella Suomea, enkä ollut kovin innoissani ajatuksesta, jotta moisia pitäisi alkaa tuomaan sieltä tänne, kun ei ole kovin varmaa kuinka kauan tulen enää Savossa asumaan. Viikon verran totuttelin ajatukseen askeettisemmasta asuinvaihtoehdosta; uimapatjasängystä pahvilaatikkomeren keskellä. Tiistai-iltana havaitsin kuitenkin naapuritalossa olevan vapaaksi ilmoitetun yksiön ja heti keskiviikko aamuna soitin tiedustellakseni asunnon saanti mahdollisuutta. Kävi mieletön onni, sillä asunto oli vielä vapaana. Kävin katsomassa asunnon kunnon ja iltapäivästä allekirjoitin vuokrasopparit. Muutto olisi tasan viikon kuluttua. Loistava päivä päätyi terassille, sillä olin mielestäni yhdet ansainnut.
Dress: Lip Service
Shirt: H&M
Shoes: Pennangalan
Eilinen päivä kului pitkän tauon jälkeen valokuvaten. En ole viime aikoina juurikaan kuvannut, joten jo oli aikakin. Kohteena oli ystäväni tekemät kaksi asua, joista hän tarvitsi kuvat portfolioonsa. Pitäisi ryhdistyä kuvaamisen kanssa. Nykyisin olen itse useimmiten kameran edessä, kuin takana. Ennen oli toisin.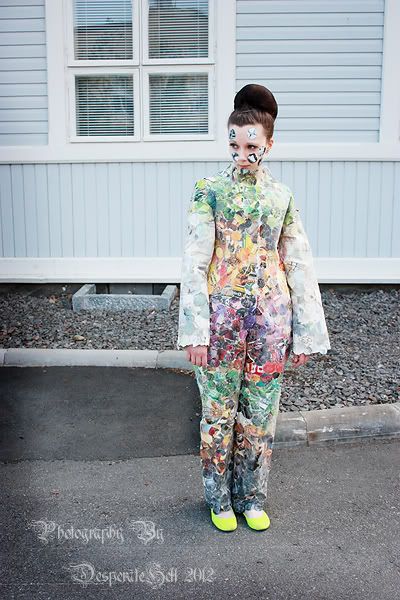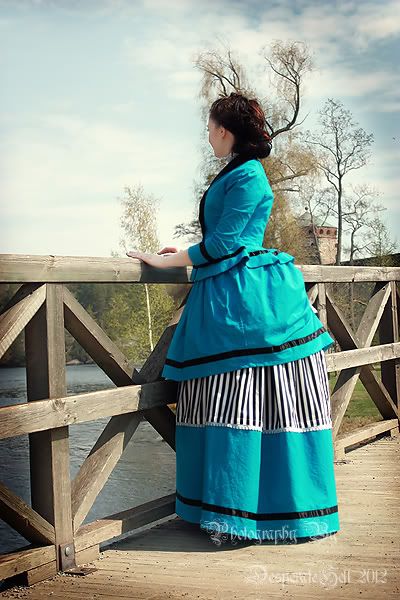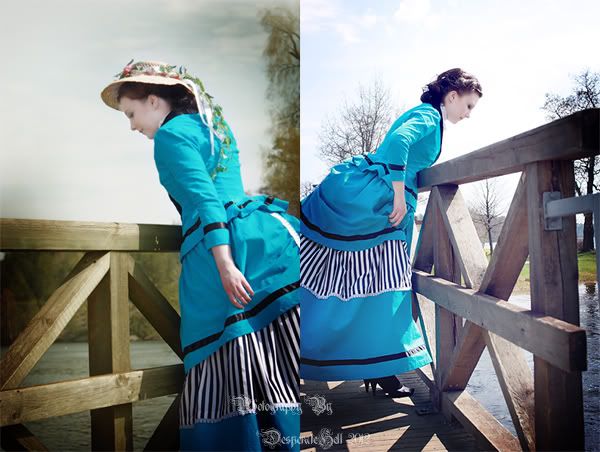 Translation
This week I made only a few work hours but it doesn't mean I would lay on the bed except on tuesday when I was ill. On wednesday I had the last exam and I survived much better than I was thought in view of I had been three days awake. I can't remember exactly what I wrote on the essay but who cares. The wednesday was a brilliant day

in every way. I have searched a new flat for the last two months because I need to give this one away

end of the month
. On tuesday I noticed that there should be one free in my neighbourhood and on the wednesday's morning I called to ask is it still free. And it was. I should move the next week.
Yesterday we had an photosession with my friend who needed to get pictures about her dresses. I haven't photographed much lately so it was nice to be behind the camera after the break.