Yksi työviikko taas takana. Eilen nukahdin jo puoli kymmenen aikaan viinilasillisen jälkeen. Kertoo väsymyksen määrästä ehkä jonkun verran. Olen ollut koko viikon flunssassa, joka toisin muistuttaa enemmän allergiaa, mutta ei ilmeisesti sitä kuitenkaan ole. Mihinkään saikkuiluun nyt ei varaa ole, kun meno on kuin kolmannessa valtakunnassa muinoin. Myös yöunet ovat jääneet joka yö 4-6 tuntiin, joka näkyy jo naamastakin. Viikonloppu tulee tarpeeseen, vaikka meneekin tenttialuetta kahlaten.
Thursday's outfit
Tällä viikkolla olen kuluttanut lukuisia tunteja maalaten.Kangas ei suinkaan tule itselleni, vaikka niin voisi kuvitella, vaan on työprojekti. Toisin harkitsin painavani moisen kankaan myös joku viikonloppu itselleni, vaikka hommaa se toki teettää.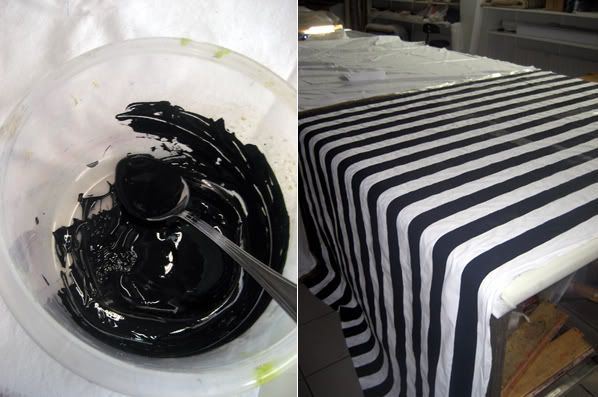 Translation
The one working week passed again and I'm glad of it. I have suffered flu this week which resembles

allergy but

obviously it doesn't be because the medications didn't work. Last night I was sleeping already 9.30pm after drinking the glass of wine. I was a bit tired after sleeping every night only 4-6 hours this week.
This week I have spent many hours by painting. It could be easy to imagine that the fabric comes for me but this is the work project. But I considered to produce the similar fabric for myself as well. Would be nice to have striped curtains.