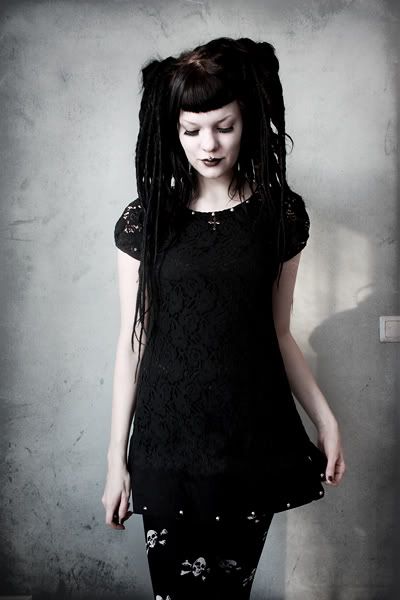 Mustasta huulipunasta on tullut varsinainen suosikki kosmetiikkatuotteeni. Joskus nuorempana tuli kokeiltua mustaa "huulipunaa" eli maalasin huuleni mustalla rajaskynällä, mutta silloin näky ei omaa silmääni miellyttänyt. Toki meikkaustaidot ovat kehittyneet teinivuosien jälkeen huomattavasti, joka myös saattanee vaikuttaa asiaan tai sitten olen vain kadottanut loputkin rippeet tyylitajusta :D Monta vuotta olen käyttänyt kirkkaanpunaista huulipunaa, mutta viime syksynä se alkoi vain tympimään pahasti. Olen muutenkin viime aikoina kokeillut erilaisia meikkityylejä ja alkanut meikkaamaan huomattavasti vahvemmin kuin aikaisemmin. Turhamaista ehkä, mutta myös hauskaa arjen keveyttämistä. Yhdessä vaiheessa en jaksanut juurikaan panostaa ja kuljin pitkälti meikkivoide-ripsiväri yhdistelmällä. Toisin käytän tuota yhdistelmää vielä tänä päivänäkin useasti, koska aina ei vain jaksa. Ja joskus on mukava käydä kaupassa ilman, että kymmenet silmäparit seuraa jokaista liikettäsi. Tänäänkin niitin tahtomattani katseita sunnuntai kävelijöiltä ollessani itsekkin lenkillä ja kaupassa. Joskus on vain niin samperin hauskaa väläyttää hymy vastaan tuijottaville silmille ja katsoa miten ihmiset reagoi.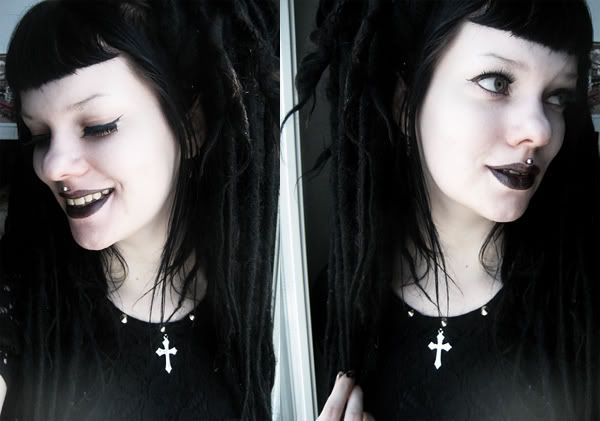 Aamulla kun heräsin, niin päässä soi tämä:
Tuli suunnaton hinku katsoa uusin Pirates. Ehkä se löytyykin illan suunnitelmista, kun tarkoitus olisi myös kokata tortilloja. Haluan saada ajatukset pois huomisesta haastattelusta ja viettää viimeisen lomapäivän lomaillen.
Translation
Black lipstick is one of my favourite cosmetic product nowadays. When I was younger about ten years ago I tried it first time but it didn't please me at all. Maybe it has something to do with my make-up skills or maybe I have lost my taste of style totally but today my eyes love the dark lips. I have tried different makeup styles lately more and noted that it's a fun hobby that I can recommend for everyone. Before I was a bit lazy and I used a lot of foundation/powder/mascara- combination which is still good daily choice especially if you don't want to attract attention. Sometimes is just nice to shopping without ten eye pairs are watching the every move you take. Today I was walking and it really felt that everybody stares (yeah maybe I look a little bit different than most sunday walkers) I decided smile them back and watch the reactions.
When I woke up in the morning theme song of pirates was playing inside my head. Maybe could watch the fourth pirates later today...