Ensimmäisen lomapäivän kunniaksi suuntasin kaupungille kiertämään kirppiksiä, mutta keskustan kirput tuntuivat olevan täynnä vain mummo krääsää. Lähinnä etsein tuunattavaa, mutta mitään kehityskelpoista ei taaskaan tullut vastaan. Toisella kirppiksellä olin vähällä tukehtua vaatepölyyn, en voi ymmärtä miten joku voi työskennellä moisessa huoneilmassa. Enpä ole aiemmin saanut tuollaisia oireita mistään, mutta tuossa puljussa oikein huomasi miten pölypallerot virtasivat keuhkoihin. Kirppiksien päätteeksi kävin Seppälästä ostamassa kolmet perus mustat sukkikset, niistä kun on ollut pulaa jo pidempään. Tällä hetkellä on ihan järkyttävä shoppailu into. Tälläinen iskee kerran tai kaksi vuodessa ja yleensä juuri silloin kun ei ole rahaa tai pitäisi elää säästeliäästi. Kumpa pääsisi Lontooseen...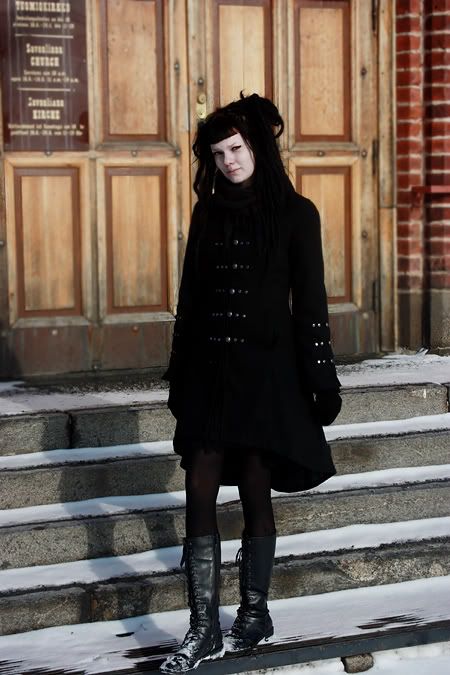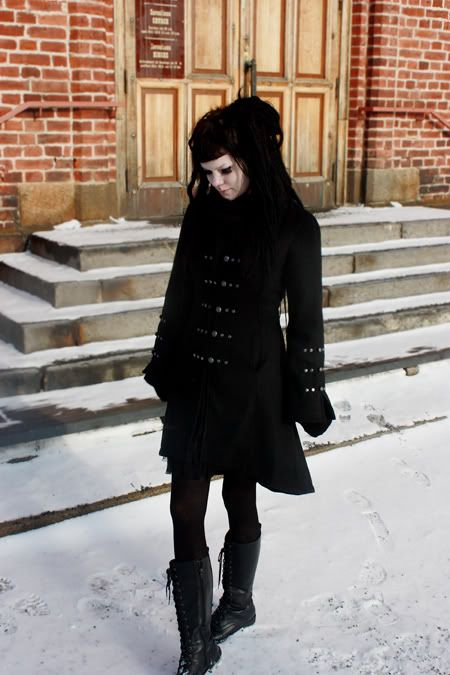 Ilmat ovat lauhtuneet sopivasti, joten on voinut käyttää ohuempaa takkia. Onneksi ei kuitenkaan ole loskaa, täydellinen talvisää. Kevättä odotan vain siinä toivossa, että pääsisi käyttämään monipuolisemmin kenkiä.
Translation
Day's outfit. The first day of holiday spent rounding in the flea markets. Unfortunately I didn't manage to find anything except the dust balls. Seriously I was near to choke when it was so dusty in the store. Better luck next time. I wish I could go London to shopping.