Maanantaisin tavallisesti tekisi mieli piiloutua elämältä peittojen alle väijymään, vaan tämä viikko lähtikin käyntiin merkillisellä energia tulvalla. Jack Skellington korvaläpät korvilla heiluen Type O Negativeä kuunnellen valuin kohti alkavaa ruotsin kurssia. Opintoni ovat muutoin kohtuu mallillaan, vaan olen jättänyt parit inhottavimmat projektit loppuhuipennukseksi. Toinen näistä on tuo tänään alkanut turhauttava kurssi naapurimaamme äidinkieltä ja toinen työttömyyttä kasvattava kolmen kuukauden mittainen työharjoittelujakso. Tosiaan nyt on jo helmikuu, enkä ole vaivautunut tekemään elettäkään konkreettisesti hankkiakseni työharjoittelupaikan. Myönnän ihan avoimesti omistavani jonkin sortin asennevamman näitä palkattomia harjoitteluja kohtaan. Orjatyövoimana olo tuskin lämmittää yhdenkään köyhän opiskelijan mieltä. Ehkä omat aikaisemmat kokemukset harjoitteluista kummittelevat yhä mielessäni ja siksi suhtaudun moisiin hyvin jyrkästi. Tästä aiheesta voisin narista kokonaisen kirjan verran, joten lopetan heti alkuunsa, koska kukaan ei varmasti halua ulinaani pidemmälle kuunnella. Katsotaan saanko asian eteen tehtyä jotakin huomenna.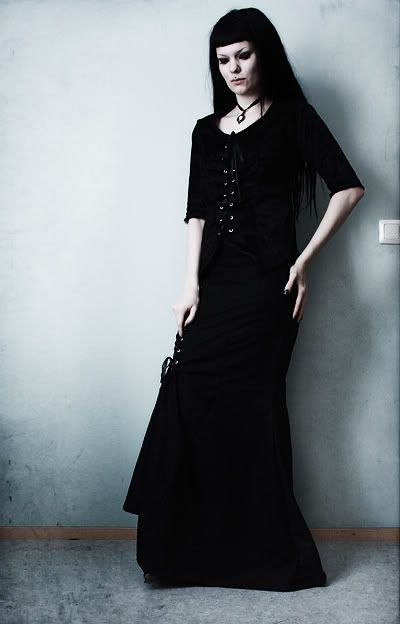 Päälleni eksyi tänään omatekoinen samettipaita, joka on nähty käytössä useasti viime aikoina. Pitkän hameen alle ujutin vielä alushameen, mutta vaellettuani muutaman kilometrin totesin sen turhaksi. Pakkaslukema oli selvästi laskenut ja olo tuntui lievästi ylipukeutuneelta. Jospa pakkanen nyt pysyisi inhimillisissä lukemissa, voisi lähteä joku päivä räpsimään kuvia talvimaisemista.
Translation



Monday; usually it means that I would like to hide from the world under the blanket but this day was different. I got some weird energy and woke up early to leave for the swedish course. My studies are in the final stages but I have still something to do. Swedish course and a placement. I have tried to find inspiration to get the placement but it seems to be difficult.

Today I put on the black velvet shirt which has become one of my favourite garment. The long skirt tries to steal a piece of my heart as well.