Perjantaina tuli humpattua Turmion Kätilöiden tahdissa, kun kyseinen yhtye pamahti keikalle tänne maailman laidalle. Keikat ovatkin viime aikoina jääneet kohdallani surullisen vähäisiksi, kun en jaksa kuluttaa valtion rautateitä ja tänne kylään harvemmin mikään bändi eksyy. Vaikka en juurikaan ole tämän orkesterin tuotantoa viime aikoina kuunnellut, niin livenä toimi kohdallani edelleen hyvin. Terveisiä tytölle, joka kävi moikkaamassa. :) On aina yhtä hämmentävää, kun virtuaalielämä sekoittuu osaksi todellisuutta.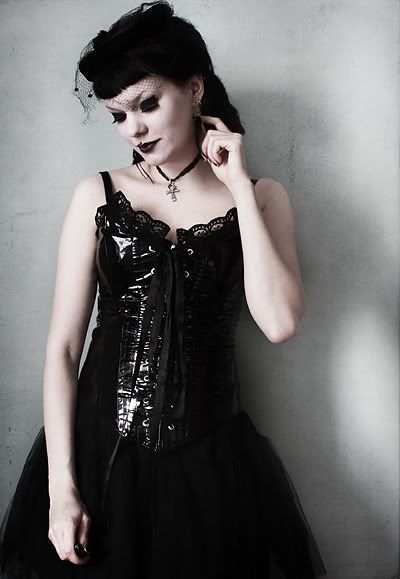 Corset: Diy
Skirt Diy
Hat: Second hand
Nyt alkoi myös talviloma, jonka toivottavasti tulen viettämään tuottoisasti. Pitäisi taas kipitellä Eurokankaaseen. Melkein hävettää, kun tuntuu että ramppaan siellä alvariinsa..
Translation
Fridays's outfit. On friday we visited the bar watching the finnish band Turmion Kätilöt. Recently I haven't visited the gigs at all because it's quite rare that any band

strays to this town and I'm fed up sitting on the train.

The gig was good and it was nice to listen live music once again.