Olen päättänyt, että en aio valmistua keväällä. Olisin kyennyt valmistumaan, mutta en jaksa tehdä töitä stressipanta otsalla ja onko sillä lopulta mitään merkitystä valmistunko toukokuussa vai syyskuussa? Käytännössä ei. Olen edennyt suunnitelmallisesti elämässä monta vuotta kovalla hopulla eteenpäin, joten nyt on aika sooloilla. Sama määränpää meillä jokaisella on eli sitten tavalla tai toisella. Mielestäni elämän tarkoitus on pyrkiä myös nauttimaan matkasta. Ei rynnätä eteenpäin jatkuvalla suoriutumisella, johon tämä yhteiskunta toki helposti ohjaa. Olen nähnyt mitä stressi saa aikaan ja mielestäni sydänoireilla kehuskelu alle 25-vuotiaana ei ole ihailemisen arvoista.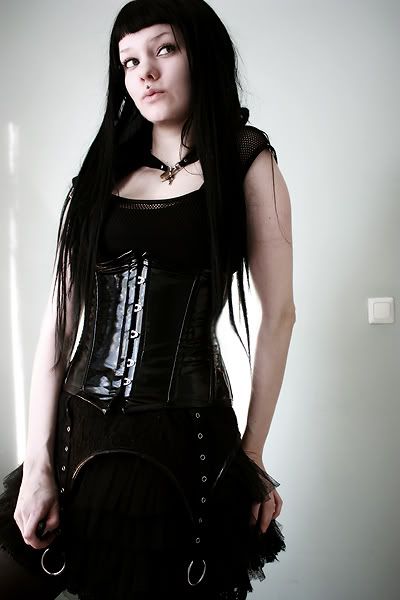 Shirt: Lip Service / Second Hand
Corset: Diy
Skirt:Hell Bunny / Blue Banana
Käytiin tänään pitkällä lenkillä keskellä päivää. Ilma oli kerrassaan niin upea, että olisi ollut hulluutta istua sisällä verhojen takana. Kävely rauhoitti hieman mieltä, sillä aamulla kihisin raivosta kävellessäni koululle. Jostain syystä heräsin jälleen kerran neljän tienoilla yöllä ja en saanutkaan sen jälkeen nukuttua. Täten kuuntelin, kun lumimies raapi kiviportaita ikkunan alla aamuyön tunteina.
Translation
I decided that I won't graduate in this spring although it would be possible. I don't want to kill myself by working so I left the placement for the summer. A little bit time to think the next step and hopefully I will find the job in autumn.
We took a walk today because it was a beautiful day. There wouldn't have been any sense to be indoors. At the same my mind

calmed down. I didn't sleep well last night so the morning was

stormy. The day's outfit is simple today but I like it anyway. :)