Torstaina lähdimme kouluporukan kanssa kohti Helsinkiä ja sieltä laivalla Tukholmaan. En ollut käynyt Tukholmassa, saatikka risteilyllä siellä päin moneen vuoteen ja kun nyt suhteellisen edullinen tarjous tuli vastaan niin miksipä sitä kieltäytymään. Muutenkin olen viettänyt viime ajat melko tiukasti kiinni Savonlinnassa, niin vaihtelu teki hyvää.
Tukholmaan saavuttaessa määränpäämme oli käydä katsomassa muutama alaan liittyvä näyttely Nordiska museossa. Näyttelyt olivat inspiraatiota herättävän mielenkiintoisia, joten kuvia tuli räpsittyä luvattoman paljon.
Tukholman museoihin en ole aikasemmin nenääni sisään laittanut enkä sen enempää perehtynyt. Tulevaisuudessa voisi olla paikallaan käydä tekemässä ehkäpä uusi kierros.
Näyttely sisälsi muotia menneiltä vuosisadoilta, mutta myös nykypäivän maailmasta.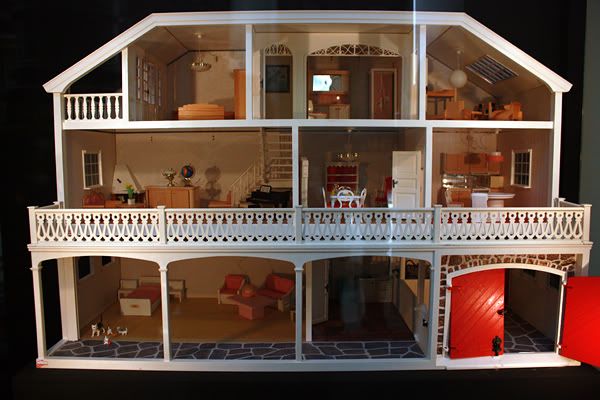 Törmäsin myös nukketaloon, jollaista pienenä kovasti halusin, mutta jouduin tyytymään isäni tekemään versioon, joka nyt ei ollut tasoltaan aivan samaa kuvassa olevan kanssa. Voisin muuten vieläkin huolia sisustuselementiksi nukketalon, jos vain asuisin tarpeeksi tilavassa asunnossa. Olen törmännyt näihin aina satunnaisesti kirppareilla, mutta tilaa moiselle hökkelille ei pienestä yksiöstä löydy.

Näytteillä oli myös vanhoja kuvauslaitteita, kuten myös iäkkäitä valokuvia. Valokuvausta rakastavana myös vanhat kamerat, kuten myös erityisesti vanhat kuvat kiehtovat. Niissä on oma tunnelmansa ja menevät myös sisustuksesta hyvin.

Museon jälkeen tuli kierreltyä kaupungilla. Onneksi olin päättänyt pitää matkabudjettini matalana, joten houkutuksille ei jäänyt edes harkina-aikaa. Jaksan edelleen ihmetellä H&M:n rajatonta määrää keskustassa, niitä kun tulee vastaan jokaisessa kadunkulmassa. Tukholmassa kannattaa keskittyä pienten liikkeiden tarjontaan, sillä muutenhan kaupungissa tulee vastaan samat liikkeet kuin Helsingissä.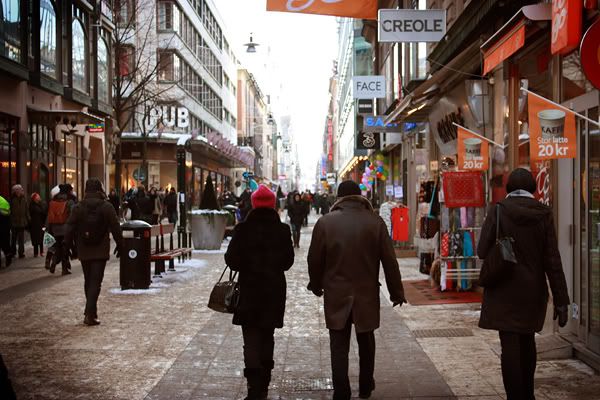 Matka oli onnistunut ja viihdyttävä. Oli mukavaa päästä laivalle hyvässä seurassa. Kotiin tullessani kaaduin laukkujeni kanssa keskelle kotipihaa, josta lopputuloksena polvessa koreilee kiitettävän kokoinen mustelma. Mikä tärkeintä kuitenkin, kaikki ostamani kuusi viinipulloa säilyivät ehjinä.
---Translation---
I travelled to Stockholm on thursday with the uni people. The trip was successful and it was nice to get to see the city after the years without forgetting the spent time with the great company on the board. We visited Nordiska museum where was an
exhibition about fashion. The exhibit was
inspirational and I took a plenty of pictures. After visiting museum we ended up to the city. I didn't buy anything but food although I saw the beautiful dresses there. Hopefully I will visit Stockholm again in the future.